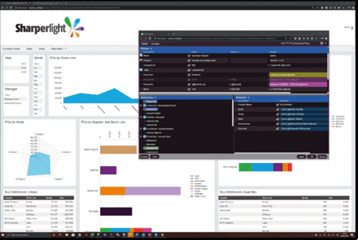 Has your organisation ever considered self service business intelligence and reporting? If not, perhaps it is time to sharpen your business processes and say goodbye to cumbersome, Excel-based reporting methods and say hello to self service business intelligence tools.
It is true that many organisations face a myriad of challenges in their reporting and analysis processes. A key one we often come across when speaking to clients is the continued heavy reliance on Excel spreadsheets. Even today, we find it is still common practice to manually collect/import/re-key figures from finance systems and other data sources into spreadsheets to analyse data further or to make adjustments before distributing final reports to management. Not only is this process hugely mundane and time-consuming, but Excel, whilst a useful and familiar tool, is error-prone and leaves no visible audit trail.
Other reporting challenges we hear about frequently include, business intelligence and reporting tools with a one-size-fits all strategy, with no flexibility or functionality to meet existing or future reporting requirements. There may be one-way read only functionality, with no write-back capabilities. There may be no real-time visibility. We also often find that organisations rely heavily on their IT departments or reporting specialists to create new or ad-hoc reports, which can result in time delays due to organising IT resource assistance.
Whilst traditional BI used to be in the hands of IT or reporting specialists alone, there has definitely been a shift towards self service business intelligence and reporting. There are pros and cons associated with this, but we think, if leveraged appropriately, the self service element totally outweighs any potential drawbacks. It can bring important benefits for organisations that are not to be overlooked, from empowering the end user, to improving decision making and gaining competitive edge. It is still possible however, even with self-service tools, for IT/specialist report developers to oversee the reporting/BI system if required, but instead of creating reports they can now focus on more value-add activities, such as data access and security.

Here at Eclipse, a primary focus for us is to help make day-to-day finance and accounting related tasks easier and pain free for our clients. We do this by providing a range of market leading finance and business management solutions, which are designed to streamline and automate manual finance and accounting processes to improve accuracy, productivity and visibility. This leads us to Sharperlight, the self service business intelligence and reporting tool, one of our key solutions that can make a huge difference to organisations, enabling them to overcome many common challenges and take their reporting to the next level, beyond spreadsheets.

So what is Sharperlight? Sharperlight is an extremely easy-to-use self-service business intelligence and reporting solution. It does exactly what it says, it enables organisations to 'shine a sharper light' on their reporting. Sharperlight can sit over multiple systems and pull data from these systems, helping them to make timely and accurate business decisions ahead of the competition. It has an add-in into Excel, enabling reports to be built directly in Excel. There is also a web front end to build web reports and interactive dashboards, which can be viewed through a web browser. What makes Sharperlight unique is that it is the only suite in its class that delivers comprehensive, real time business intelligence, but also equips users with the ability to write back to source within the same secure environment over the web and within Excel.
The great thing about Sharperlight is that it is specifically designed to let non-technical users explore and analyse data without having to involve technical experts or IT departments. This helps organisations to reduce the time and cost of getting insights from their data. The lay user, who may not be familiar with the ins and outs of the complex underlying system, can easily use the functionality.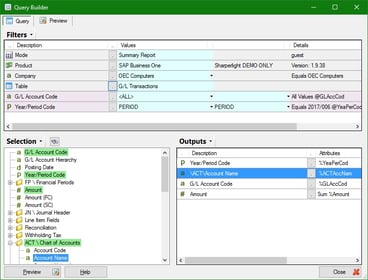 At Sharperlight's core is the Query Builder, the common interface across the suite of applications. This tool is used to construct queries. It is built around the concept of self service business intelligence and reporting and is very ad-hoc and flexible. The user can select tables to report from, for example an account transactions table out of the Infor SunSystems financial management system or an alternative finance system.
Sharperlight enables users to access quite complex systems, made possible by structure which is built by a Data Model. Sharperlight Data Models are different to other solutions on the market in that they are designed to sit over a live system. You can access Data Models and run live queries across a live system to gain real time business intelligence. Whilst Sharperlight can run over a data warehouse or a data store, it is very much optimised for live systems. You can report over multiple SunSystems business units at one time. Once a Data Model is set up, users can build and distribute reports themselves.
Sharperlight's functionality enables lay users to easily carry out live drill-down, or distribute pre-defined drill-through, in order to find out what is really driving and impacting their organisation. They can 'drag and drop' and carry out simple filtering to pull out information and slice it in a number of different ways, without being technically savvy or requiring a lot of training. The concept of the 'on the fly' drill-down, slice and dice, is intrinsic to how the tool works and is a standard extension of the Query Builder. The level of control the user has over the data marks a shift in reporting as data can be accessed when it is needed, where it is needed and in the required format. What's not to like?
If you're ready to embrace self service business intelligence and reporting in 2023, call us on +44 (0)203 866 8800, send an email, or check out our 10 Minute Tutorial: 'Self-Service Reporting with Sharperlight':