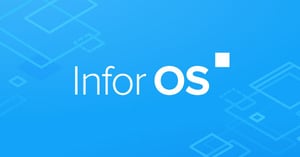 Many organisations have an assortment of disparate, disconnected business applications, which makes a coherent, coordinated effort across a company difficult. To succeed in a digital business era, organisations need to move towards connected technology platforms where integration, analysis and collaboration are easy.
The Infor team have been busy creating a technology platform which will enable digital transformation for users of their business applications. Infor OS (formally Infor Xi) stands for Infor Operating Service and serves as a platform for digital transformation. It is the central point for an enterprise's ecosystem where you can automate, anticipate, predict and inform stakeholders in all things they do.
The technologies within the Infor OS platform were designed to cover the widest range of emerging business needs. The technology bundle includes the Infor ION integration framework, Infor Ming.le social collaboration, Infor Document Management (IDM) and more.
Organisations already using Infor applications can benefit from Infor OS in terms of easier integration, more extensive single sign on, better user management and simpler maintenance. Infor OS enables organisations to adapt to business changes over time, with the flexibility to add to and modify systems as a business grows. Organisations can simplify their IT landscape so that they can work smarter with increased collaboration and productivity. Infor OS synchronises siloed information and simplifies maintenance, reducing overall cost and enabling you to gain competitive advantage.
Whether your software is deployed in the cloud, in a private cloud, or on-premise; whether you are working from your corporate headquarters, home office, or on the road, Infor OS makes it possible to access your applications securely and reliably.
The artificial intelligence (AI) capabilities of Infor OS are designed to maximise human potential by reducing the burden of repetitive administrative tasks and giving employees more time to do work that matters.
Here at Eclipse, a large number of our clients are using the Infor SunSystems financial management solution. The Infor SunSystems Cloud Platform runs on Infor OS. Infor SunSystems, v6.4, also runs on the Infor OS platform, so the various applications including ION, Ming.le etc. are no longer separate modules. OS is part of the fabric of SunSystems v6.4, providing more collaboration and interaction with systems and staff, further analytical opportunities and more efficient system administration with a lower TCO.
For further information on Infor OS, get in touch on +44 (0)203 866 8800, view the video clip, or download the brochure below, to see how Infor OS enhances Infor SunSystems with greater integration to additional Infor applications: