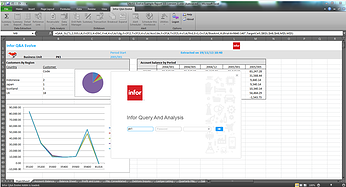 Infor Query & Analysis Evolve is the latest and completely re-imagined version of Infor Query & Analysis (aka Vision). Evolve is the biggest change to the data analysis and reporting tool for many years, probably since Vision 6, which was released around 10 years ago. It is a substantial redevelopment of the product from the ground up, that brings together a number of key technology enhancements and important new functional elements.
What's new?
Firstly, it is worth noting that because Evolve is a complete code redevelopment it effectively represents a completely new product. It would perhaps be unwise to think of Evolve as a direct replacement for the current version of Q&A and should not be thought of as a simple like for like upgrade.
Having said that, there are tools to assist with the migration from Q&A 10, but if you like the sound of what is coming we would urge you to get in touch with us so that we can discuss your requirements in more detail. We will also be running webinars to go through the product in much greater depth and details of these will follow soon.
Q&A 10 will continue to exist in its current incarnation for some time and indeed can be run concurrently alongside Evolve. Q&A 10 will receive a number of maintenance releases, but over time we expect Evolve will become the de facto reporting tool where previously we would have considered Q&A 10.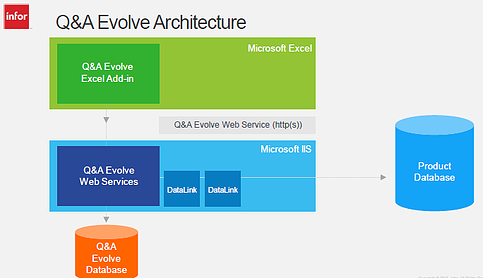 Below are some of the key features of the new solution:
Evolve is Excel-based only. Q&A Executive functionality such as breakouts, expands, drill downs etc. can now be run inline within the Excel environment. Not only this, but the entire Q&A stack is now embedded in Excel, for example, Evolve includes Alert as part of the core product set so report scheduling and distribution can be configured direct from the client.
Evolve uses the latest technologies:


The client is now fully compatible with 64-bit operating systems and the latest versions of Microsoft Office.
The product should be easier to update through interim patches without the need to install a whole new version.
A new low footprint client means lower maintenance and quicker install times and connection to the standard Evolve web service means that more work is now done by the application server without the need for the client to talk directly to the database.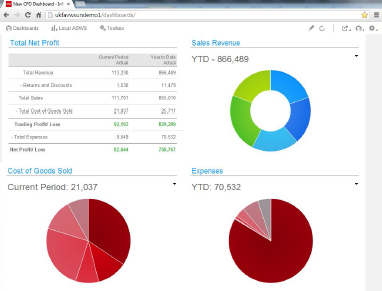 Evolve Dashboards are a much anticipated new feature. BI Dashboards and BI Motion Dashboards for display on mobile devices support Self-Service/Ad hoc reporting on all DataLinks. Dashboards are available to all SunSystems clients who have a Datalink, so this includes version 4 customers. Dashboard controls can also include pre-configured drill back to the underlying SunSystems data.
When is it out?
Q&A Evolve is out now in tandem with the latest Infor SunSystems 6.2 release. As mentioned, we will shortly be running webinars on this product, but in the meantime call us on +44 (0)203 866 8800 to register your interest, or: