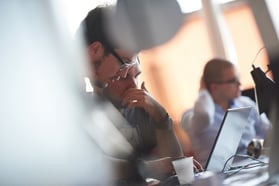 The January 2017 release of the PROACTIS Purchase-to-Pay (P2P) solution is quickly approaching and will include a range of new features that will make everything easier, faster and more consistent.
PROACTIS P2P solutions streamline the purchase-to-pay process by enabling organisations to eliminate manual invoice administration, speed up invoice matching and approvals and gain control of 'after-the-event' purchase claims.
Here is a run-through of some of the key enhancements in the Jan '17 release of PROACTIS P2P:
Enhanced User Interface
Streamlined navigation, crisp new screen design, intuitive interaction, foundation for future user experience, consistent across all applications. These enhancements mean that minimal training is required.
Enhanced Reporting
Fully web-based, report scheduling and email delivery, easy report creation and customisation, access to data throughout the PROACTIS suite, consistent across all applications.
P2P Tech Upgrade
Increased performance, simplified system administration, simplified technical, system management, no functional impact on end users.
PROACTIS Marketplace
Access to a world of suppliers, configurable to the suppliers and contracts you want to use, flexible PROACTIS P2P connection options.
Positioning for Common, More Agile Upgrade Process
Consistent quarterly update cadence for all applications, continued managed process for cloud and hosted deployments, enhanced release notes for P2P.


Moving to the latest release will position your organisation to take advantage of all the new enhancements. For further information on the January 2017 release please contact us on +44 (0)203 866 8800, or check out other PROACTIS solutions designed to streamline spend control processes: