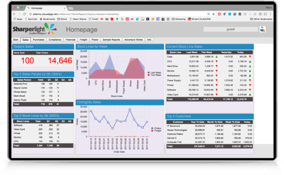 Sharperlight is a low maintenance, highly flexible reporting and business intelligence platform. What Sharperlight excels at is extracting data in real-time from multiple, often disparate sources while maintaining data validity. The solution combines and/or transforms this data for presentation in attractive and interactive reports and dashboards.
Existing clients will be pleased to know that the latest release, v4.6 includes a range of new features and functionality. Robin Fletcher of Sharperlight takes us through some of the key highlights:
Migration to .NET Framework 4.6.1
Sharperlight has been relying on .NET 3.5 for many years, but the time has now come to migrate the code-base to .NET Framework 4.6.1.
New Installer
This release heralds in a new Setup Wizard courtesy of the WiX toolset for building Windows installation packages. There are now two installers with separate installation files for 32 bit and 64 bit Windows operating systems.
HTML5 Data Entry Grid
Silverlight is no more...with this release the native web grid entry interface will use the new HTML5 data entry grid. In data entry mode the HTML5 grid supports grouping and advanced filter.
Tonnes of Enhancements
We are driven by your feedback and our passion for making Sharperlight better and better. This round sees changes to the Excel Add-in with bulk write-backs and some new logic for skipping zero values. The Query Builder now has a faster expression engine, and an enable wild card search option, along with a simplification of the Drill To expression builder. Where there was an opportunity for improvement we went there...the Web Channel, Foundry Studio and Site Setup have all been enhanced too.

For further information on the Sharperlight business intelligence and reporting tool please call +44 (0)203 866 8800 or download the full Sharperlight v4.6 statement of release: