Since the much-awaited SunSystems Cloud (SunSystems 7) was launched back in 2022, we have been busy working with our clients on their digital transformation journeys, helping them make the switch from prior SunSystems releases to the latest 100% cloud based financial management software. Whether you are new to SunSystems and are searching for a cloud financial management solution, coming back to SunSystems after using an alternative finance system, or are considering the solution for the first time, we are here to help.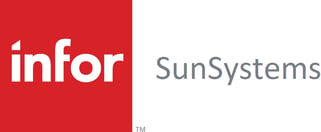 We have previously explored the business benefits of SunSystems Cloud, what you get for your investment, and how the solution is a perfect match for growing organisations. We now set out some of the most frequently asked questions about SunSystems Cloud that we come across and provide some answers to assist organisations in building their business cases for considering this market leading cloud financial management solution.
How does a SunSystems Cloud cost model compare to an on-premise SunSystems deployment? Costs are simplified with the SunSystems Cloud SaaS (software as a service) model. Unlike an on-premise deployment, organisations do not have to consider any hardware and software costs, IT resources, the various environments and dependencies required to update the software, or license or maintenance costs. A subscription to SunSystems Cloud includes all these aspects, freeing up both capital and operational expenditure, ensuring a lower total cost of ownership.


What does a SunSystems Cloud subscription entail? A SunSystems Cloud subscription comprises an annual subscription to the software based on the number of named users and business units (legal entities) required, as well as SunSystems implementation services, which varies depending on the complexity of the business requirements, modules to be implemented and the availability of the organisations' own resources to work on the project.


What is the upgrade path from an earlier release of SunSystems? Each SunSystems Cloud upgrade path varies according to the software release. Below are the recommended SunSystems upgrade paths:




How can I integrate my 3rd party business applications and other Infor applications with SunSystems Cloud? SunSystems Cloud runs on the Infor OS digital transformation solution (find out more below), which integrates with the Infor Intelligent Open Network (ION). In addition to the existing SunSystems integration tools like Transfer Desk and SunSystems SSC, Infor ION provides additional capabilities to transfer data in and out of SunSystems using Business Object Documents (BODs). Bi-directional data flow can be set up with other applications within the Infor stack and third-party applications, both cloud and on-premise. ION can leverage any API capabilities third-party applications have to offer. As covered in a previous blog post, the beauty of Infor ION is that it loosely couples business applications without breaking integrations or changing business processes.



5.

What is Infor OS and how does it benefit SunSystems users?
Infor OS stands for Infor Operating Service, a digital transformation platform which runs on Amazon Web Services (AWS) and combines business processes and artificial intelligence (AI) to improve productivity in the workplace. Infor OS is a game changer for SunSystems users in that they can access next generation technology without a costly upfront investment, or heavy reliance on IT specialists. The platform includes several components that come together and operate as a single unified technology stack in the development and runtime environment. There are a range of business applications in the stack including, Infor ION, Infor IDM (Infor Document Management), Infor Ming.le and many more.



6.

Is the platform user friendly? SunSystems Cloud is extremely user friendly with its new consumer-grade user experience with centralised applications for focused tasks and contextual benefits. Benefit from contextual data, analytics, and documents for improved decision making. There is also a consolidated message inbox for alerts, tasks, and notifications. Its modern, intuitive graphical user interface simplifies financial management processes and provides seamless access to relevant business information, anytime, anywhere and on any device. Organisations benefit from a streamlined user experience, with single, secure access to the business ecosystem. There is enhanced interaction, with contextual-AI powered experiences, as well as powerful workflow capabilities for entire business process visibility. The user experience can also be optimised by role and personalised by the user.



7.

What support services are available?
Our team are here to help support organisations through the entirety of their SunSystems Cloud journeys. We help organisations to leverage SunSystems Cloud and all its features and functionality to ensure that they get the most out of their investment.

There are lots of factors to consider when considering a partner for your SunSystems Cloud project, from knowledge and experience, to project methodology, service and approach to name a few. As an Infor Gold partner, we believe that our service-focused approach and proven-track record of implementing SunSystems (deploying and supporting SunSystems for over 35 years, working with over 2,000 clients in 70+ countries) provides organisations with a very low risk, future proof and cost-effective solution. Our dedicated SunSystems Cloud team help organisations with application configuration design and build, data migration/upload, Infor SunSystems training, UAT and go-live assistance. We pride ourselves on our strong customer services and the Eclipse helpdesk are here to provide ongoing support after the implementation. We provide a Level 2/24*7 hypercare support service for our SunSystems Cloud clients. We are very responsive and have a team of consultants who can help ensure that any issues that arise are resolved promptly.

On top of our own SunSystems Cloud services offering, as part of the annual SaaS subscription fee, Infor provide 24/7 support. This includes pro-active system monitoring, software upgrades, application and infrastructure maintenance, disaster recovery, enhanced secu

rity an

d more.



8.

How does SunSystems Cloud ensure security? SunSystems Cloud provides automatic and ongoing updates for security and compliance. Modern security is enforced across users, roles, documents, and all technology components. The solution reduces risk as Infor and associated partners handle everything security related, so you can rest assured that your systems are secure. This marks a change from previous SunSystems releases where the customer is responsible for the security of their system.



9.

How long does it take to deploy SunSystems Cloud?
Typical deployment timeframes vary depending on the number and complexity of the legal entities to be implemented, combined with the specific modules to be configured.

As an example, a small financials only implementation for an organisation operating domestically, could be up and running within 3-6 weeks of the project start date, whereas a larger financials implementation for an organisation with multiple business units operating internationally could be up and running within 12-20 weeks.



10.

What new features and functionality are included in SunSystems Cloud? Many of the new features and functionality are centred around Infor OS and the new consumer-grade user experience as outlined above. Not only can organisations achieve seamless integration between their business applications, but there is also enforced security, constant peak performance, and synchronised services for consistent experiences. In addition, SunSystems Cloud also excels with its built-in global support to help organisations meet their scalability requirements.

Organisations can achieve much more from their financial management function with market leading cloud-based financial management software, such as SunSystems Cloud. For further information, or if you have any additional questions, please call +44 (0)203 866 8800, send an email, or download the Infor whitepapers: