In this latest blog post, which forms part of a series of our Infor Operating Service (Infor OS) and Infor SunSystems Cloud related posts, we take a look at the Infor integration platform as a service (iPaaS) solution, which is the Infor Intelligent Open Network (Infor ION) advanced middleware platform, offered as part of the Infor OS platform. Infor ION is an integration framework that connects with other Infor applications (Infor and third party) via its iPaaS known as ION Connect, to deliver enormous benefits to organisations, helping them to transform digitally, work more productively and ultimately boost business agility. ION Process and ION API Gateway also form part of the Infor OS platform, which we will explore below. Importantly, Infor was named an Expert in the Nucleus Research iPaaS Technology Value Matrix 2022 and received this high ranking for Infor ION.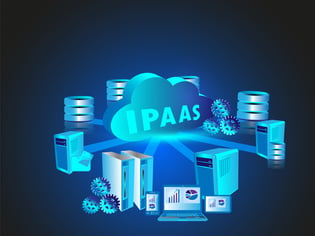 To give some background, we have been working with organisations to help streamline their finance and accounting processes since 1987. A focus for us as a company has always been Infor SunSystems, the midmarket financial management platform, which is at the heart of what we do. We are now seeing how iPaaS solutions, such as Infor ION, are powering business agility and innovation in the cloud, bringing further benefit to organisations using SunSystems. In 2022 we launched Eclipse India, a subsidiary of Eclipse Group and directed by Madhur Subhash, to provide additional expertise in third party application integration, extended operational support services and cloud solution offerings.
Infor OS Overview
Infor OS is the digital transformation and operating platform which runs on Amazon Web Services (AWS) and is the foundation of Infor's cloud strategy. Infor ION forms a part of this, along with a bundle of technology applications including, Infor Ming.le, Infor Document Management (IDM) and Infor OS Data Fabric (a centralised set of tools for data requirements).
Infor OS provides access to business applications securely and reliably. SunSystems Cloud runs on Infor OS, providing greater collaboration and interaction with systems and staff, further analytical opportunities and more efficient system administration with a lower TCO than an on-premise deployment. The platform's AI capabilities are designed to maximise human potential by reducing the burden of repetitive administrative tasks and giving employees more time to focus on work that matters.
Essentially, Infor OS enables organisations to plug in any business application and any business process and connect them seamlessly in any type of CloudSuites, whether on-premise, in the cloud or hybrid.
Infor ION Overview
Infor ION was launched in 2009 to help organisations overcome complicated technology landscapes, particularly disconnected systems and information silos, resulting in inefficiencies, costly maintenance requirements and consequently missed opportunities. The platform is designed to enable organisations to get common reporting and analysis, workflow and business monitoring with one, consistent architecture. The platform delivers a flow of information, analytics, social media and a powerful business vault staging area, assisting organisations with their digital transformation initiatives by providing enterprise-wide visibility in a single management environment.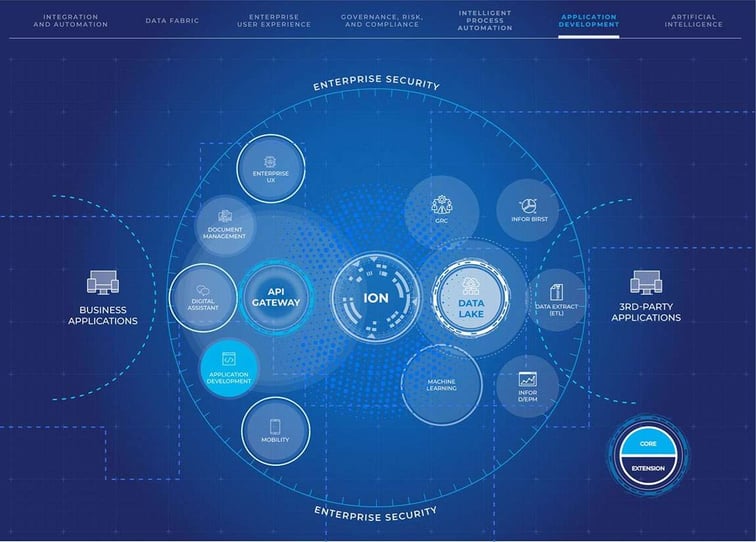 Not only is Infor ION a unified platform for social, mobile and cloud, simplified integrations and upgrades, but its business process management software (BPMS) platform, ION Process, provides greater flexibility for end users to adapt businesses processes than ever before, modelling and managing business workflows. Infor ION integrates with Infor specific applications, such as Infor SunSystems, Infor OS, Infor Document Management (IDM) and Infor Enterprise Performance Management (Infor EPM), as well as third party software applications through its API Gateway (find out more below), for example a range of Procurement and CRM solutions (we have had success internally with Proactis P2P and Accelo).
Infor ION Connect Overview
Infor ION Connect is the communications network for Infor ION. It provides a collection of services which enables you to access a wide variety of systems and information in a single, unified framework.
Infor ION Connectivity Options
A key strength of Infor ION is its capability to integrate with such a wide-range of software applications, whether cloud-based, or on-premise. It integrates with on-premise servers, so organisations can access file storage and SQL databases, along with further integration layers, enabling connection to additional 3rd party software solutions, such as CRM systems as mentioned above and other 3rd party applications such as the Proactis spend control and eProcurement solutions and the Sharperlight reporting and business intelligence platform. The diagram below illustrates how Infor ION connects to different databases and applications.
The Technicalities
The Infor ION Enterprise Connector provides an out-of-the-box connectivity with Infor Cloud through AWS SQS and S3 web services, used for intermediate storage. The Enterprise Connector service is deployed on an organisation's on-premises infrastructure and is responsible for the communication with the Infor Cloud services.The Enterprise Connectors provide hybrid service integration for Infor Cloud services and your local deployed services. They help move data from a local server to the cloud.

The ION API Gateway is a server that acts as an API front-end to Infor products. It receives API requests and enforces throttling and security policies. It proxies APIs into a single gateway with unified security, management tools and transformation capabilities.

A File connection point can be set up to read files from local servers and an ION API connection point using the AWS SE API suite which can send files to the cloud. A DataFlow can be created with a File connector and an ION API connector.


Data Warehousing
Since we are focusing on data integration, it is only relevant that we draw upon the topic of data warehousing, the process of collecting and managing data from multiple sources and consolidating it into a single, centralised, and integrated repository. Data warehousing enables organisations to carry out data analysis and reporting to help aid decision-making.
The Infor Data Lake solution is integrated with the Infor OS experience and provides a one source repository for all of an organisation's data-driven business insights. Infor Data Lake sits in the cloud and connects to Infor ION, which links to the Infor Enterprise Connector. Infor Data Lake tools bring schema-on-read intelligence along with a flexible data framework to enable new ways of making business decisions. The solution provides access to an organisation's entire Infor eco-system to capture and deliver big data for next generation analytics and machine learning strategies. It provides data ingestion with Infor ION and the Infor ION API Gateway. It also delivers flexible data-warehousing strategies.

Conclusion
This is a high-level overview of Infor's iPaaS platform, which enables an organisation's full range of business applications to talk to each other in the cloud for greater business agility. Infor OS provides a one stop shop for all of an organisation's integration requirements. The platform enables organisations to react faster, adapt to changing business requirements and maintain competitive edge.
We understand that searching for a suitable integration solution is not easy, as there are so many elements to consider, from an API management gateway, to a monitoring system and a workflow engine. Infor OS provides all of this and more and we have a dedicated and experienced team who can help with your organisation's specific integration requirements.
For further details, please call +44 (0)203 866 8800, send us an email, or download the Infor OS and Infor ION whitepapers: